Tools & Equipments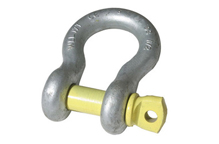 Bow Shackles
Capacity - 0.5 to 10 ton
A shackle incorporates a body and a bolt which is primarily used to link to other construction and earth-moving equipment together in rigging systems as their attachment and removal is simple. Bow Shackles can also be used to recover vehicles as they hold the strength to lift most vehicle weights in the market.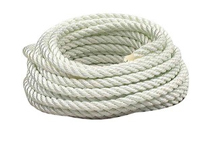 Nylon Rope
Diameter - 10 to 50 mm
Nylon is the strongest of all ropes that is commonly used. Its elasticity is double the stretch of a polyester fibre. It is generally employed for absorbing shock loads, such as, towing because it has the ability to return to its original length after being stretched. It also has good abrasion resistance which makes it last many times longer than other natural fibres.
Steel Wire Rope Compacted
Diameter - 8 to 50 mm
It is a wire rope with decreased diameter yet increased tensile strength. It consists of several wire strands which have gone through crimping wheels to compress and shape each wire, in order to form compacted structure before laying strands around the core. It gives Increased wear resistance of wires and smoother bearing surface than traditional wire ropes with protection from construction stretch. It can be deployed as Whip hoist rope, Pillar/Deck crane rope or marine fishing applications.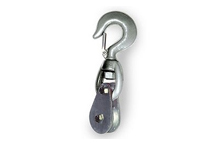 Wire Rope Pulley Block
Capacity - 3/8 to 1-1/2 Ton
A block is used with two or more pulleys with a rope or cable interweave between them, to lift heavy loads. The pulleys are massed together to form blocks, and then blocks are paired so that one is fixed and the other moves with the load. These wire rope pulley blocks are tested to maintain international standards and are Easy to handle with benefits of Robust construction and Low maintenance.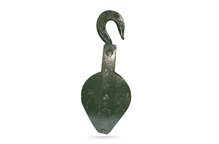 Manila Rope
Size - 1/2 to 2"
It is a highly durable rope with usage flexibility, and salt water damage resistance. This makes it fit for its use in hawsers, ships' lines, and fishing nets. However, manila ropes shrink when they become wet.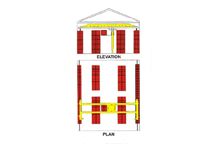 Floor Operated Stacker
Capacity - 1000 to 2000 Kgs
It serves up to 8 m rock height and 360 turntable rotation with the capacity of 1000 to 2000 Kgs, even in a narrow aisle, enabling the maximum utilisation of floor and space area. The double deep and multi-aisle storage system eases the task of keeping any load anywhere.